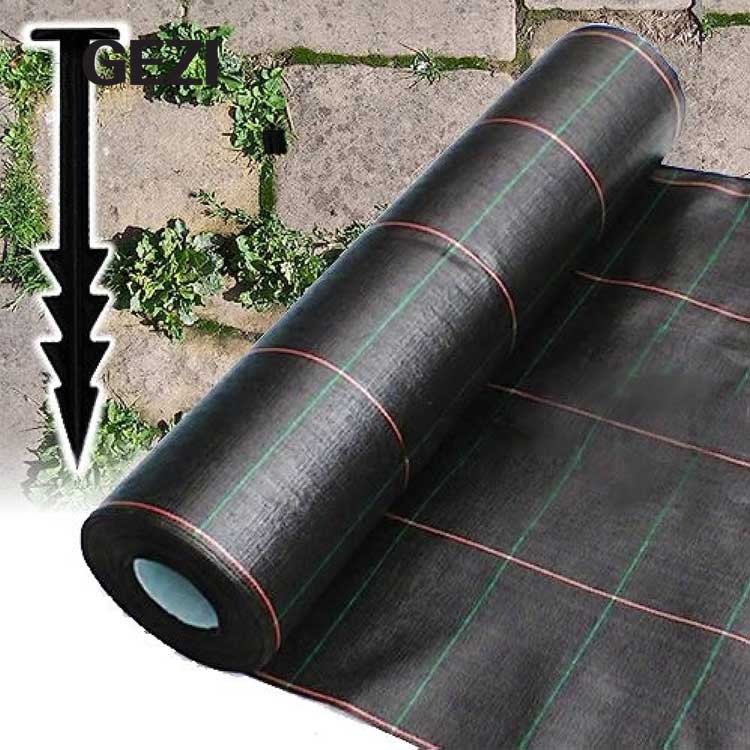 The Power of Weed Control Mat Fabric: Weed control mat fabric, also known as landscape fabric or weed barrier fabric, is a specially designed cloth that acts as a physical barrier to prevent weed growth. It is typically made from woven or nonwoven synthetic materials like polypropylene or polyester. The fabric is permeable, allowing water and essential nutrients to penetrate the soil while obstructing the growth of unwanted weeds.
  Effective Weed Suppression: The primary purpose of weed matis to suppress the growth of weeds by blocking their access to sunlight. By creating a barrier between the soil and the external environment, the fabric inhibits weed germination and hampers their ability to thrive. This eliminates the need for frequent and time-consuming manual weeding, reducing the overall maintenance requirements of your garden.
  Improved Moisture and Nutrient Retention: Apart from weed suppression, weed control mat also aids in moisture and nutrient retention. By preventing direct exposure to sunlight, the fabric reduces evaporation, allowing the soil to retain moisture for a more extended period. This is particularly beneficial during dry spells or in regions with limited water availability. Additionally, the fabric acts as a shield, preventing essential nutrients from being washed away by heavy rainfall or excessive watering.
  Enhanced Plant Growth: Weed control mat fabric not only inhibits weed growth but also promotes healthier plant development. By eliminating weed competition for resources, the fabric ensures that your plants receive an ample supply of nutrients, water, and sunlight. The reduced stress on your plants enhances their overall growth and vitality, resulting in a more thriving and visually appealing garden.
  Easy Installation and Versatility: One of the significant advantages of weed control fabric mat is its ease of installation. Simply lay the fabric over the desired area, cut holes for your plants, and secure it with landscape pins or stakes. The fabric is highly versatile and can be used in various garden settings, including flower beds, vegetable gardens, walkways, and landscaping projects. It can be easily customized to fit any shape or size, providing efficient weed control in all areas of your garden.
  Environmental Friendliness: Weed control mat fabric offers an environmentally friendly alternative to chemical weed control methods. By reducing or eliminating the need for herbicides, the fabric helps minimize chemical runoff into water sources and promotes a healthier ecosystem. Additionally, its long-lasting nature reduces waste and the need for frequent replacement, making it a sustainable choice for weed management.
  Conclusion: Weed mat ground cover is a game-changer in the realm of weed management. By preventing weed growth, retaining moisture and nutrients, and promoting healthy plant development, this innovative cloth provides a comprehensive solution for maintaining a weed-free garden. With its ease of installation, versatility, and environmental friendliness, weed control mat fabric is a valuable tool for both seasoned gardeners and gardening enthusiasts alike. Say goodbye to weeds and hello to a beautiful, thriving garden with anti weed mat.