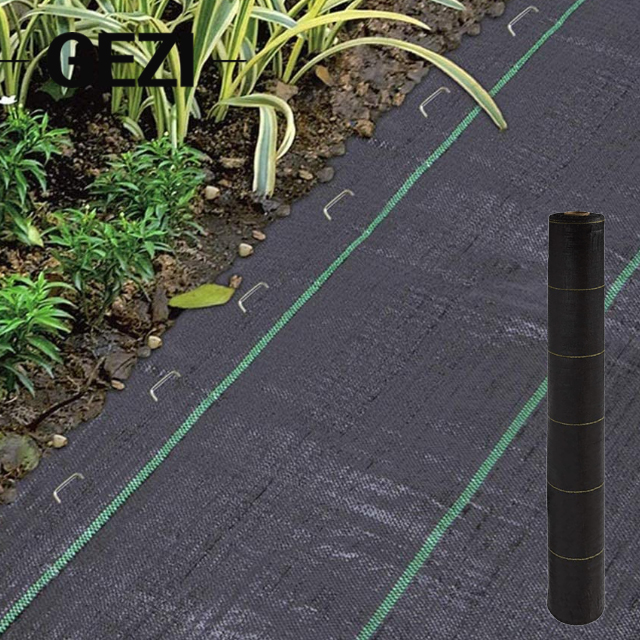 Understanding Weed Barrier Mat Fabric:
  Weed barrier mat fabric, also known as weed control fabric or landscape fabric, is a specialized material designed to suppress the growth of weeds. It is usually made from a durable, permeable, and UV-resistant material like woven polypropylene or spunbonded polyester. The fabric comes in rolls of varying widths and lengths, making it easy to customize for specific landscaping needs.
  How Weed Barrier Mat Fabric Works:
  The primary function of weed barrier mat fabric is to prevent weeds from penetrating the soil and reaching the surface. It creates a physical barrier that inhibits weed growth while allowing air, water, and nutrients to penetrate the soil and nourish the desirable plants. By blocking sunlight, the fabric hinders weed germination and stifles their growth, significantly reducing the amount of weeding needed over time.
  The Benefits of Weed Control Barrier Mat Fabric:
  1.Weed Suppression: The most obvious benefit of using weed mat is its excellent weed-suppressing properties. It significantly reduces the need for manual weeding and minimizes the competition between weeds and cultivated plants for resources.
  2.Moisture Retention: The fabric helps retain soil moisture by reducing water evaporation. This is particularly advantageous during hot and dry periods when plants require more water to thrive.
  3.Soil Erosion Prevention: By covering the soil surface, weed control mat protects against erosion caused by wind and heavy rainfall. It keeps the soil particles intact and prevents them from washing away, maintaining the stability of your landscape.
  4.Enhanced Plant Growth: With fewer weeds to compete with, plants can grow and spread more effectively. The fabric also acts as a protective layer, shielding plants from potential damage caused by soil splashing and pests.
  5.Reduced Need for Chemical Herbicides: By employing weed barrier mat fabric, you can minimize the use of chemical herbicides, promoting a more eco-friendly and sustainable approach to landscaping.
  6.Time and Labor Savings: Installing weed control fabric mat initially may require some effort, but the long-term time and labor savings on weeding and maintenance make it a worthwhile investment.
  Tips for Using Weed Barrier Mat Fabric Effectively:
  1.Prepare the Site: Clear the area of existing weeds and debris before laying the fabric. Proper preparation ensures the best results.
  2.Secure Edges: Use garden staples or landscape pins to secure the fabric's edges and prevent it from shifting.
  3.Cut Precise Holes: When planting, cut X-shaped slits or circles in the fabric to accommodate the desired plants. Make sure the holes are just big enough for the plants to fit snugly.
  4.Cover Completely: For maximum effectiveness, cover the entire area with weed barrier mat fabric, overlapping the edges by a few inches.
  5.Mulch Application: Applying organic mulch on top of the fabric can further enhance its weed-suppressing properties while providing additional benefits like improved soil health and aesthetics.
  Conclusion:
  Weed mat ground cover is an invaluable tool in protecting your landscape from the relentless invasion of weeds. Its ability to suppress weed growth, retain soil moisture, prevent erosion, and save time on maintenance makes it a valuable addition to any garden or outdoor space. By implementing this effective weed control method, you can create a beautiful and flourishing landscape that requires less effort to maintain, leaving you more time to enjoy the beauty of your outdoor haven.