Understanding the Non-Woven Fabric Weed Mat
Non-woven fabric, traditionally used in industries like textiles and filtration, has found an unexpected application in the realm of gardening and landscaping. Weed mat, also known as landscape fabric or weed barrier, is a sheet made from this durable material. Unlike plastic or rubber mulches that are often used to combat weeds, non-woven fabric weed mat is a more environmentally friendly option that allows air, water, and nutrients to permeate while effectively preventing weed growth.
The Battle Against Weeds: Benefits of Non-Woven Fabric Weed Mat
Weed Suppression: The primary function of a non-woven fabric weed mat is to stifle the growth of weeds. By blocking sunlight, a crucial element for weed germination and growth, the fabric creates an inhospitable environment for weed development. This not only reduces the number of weeds that emerge but also curtails the need for frequent and labor-intensive manual weeding.
Moisture Retention: Garden plants require consistent moisture to thrive, and weeds are notorious for competing with cultivated plants for water. Non-woven fabric allows water to penetrate the soil while simultaneously minimizing evaporation. This ensures that your desirable plants receive an adequate water supply without facilitating weed growth.
Soil Protection: Erosion control is another advantage of using weed control mat. When heavy rain or irrigation occurs, the fabric acts as a protective barrier that prevents soil from washing away. This is particularly important on slopes or areas prone to erosion, where maintaining soil integrity is essential for plant health.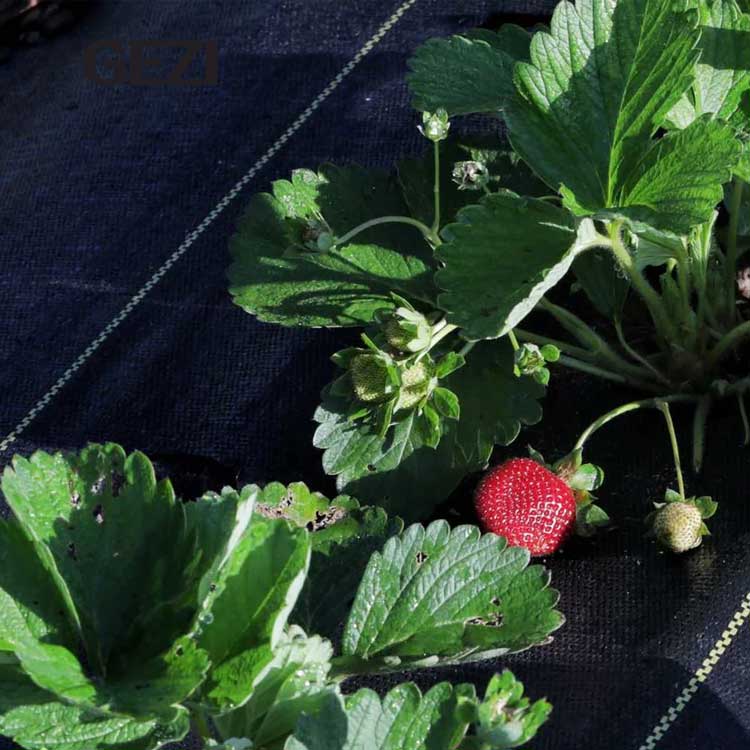 Aeration and Nutrient Exchange: Unlike solid materials like plastic sheets, non-woven fabric permits the exchange of gases and nutrients between the soil and the atmosphere. This aeration is crucial for maintaining healthy soil ecosystems and facilitating root development in plants.
Time and Labor Savings: Installing weed control fabric mat significantly reduces the need for ongoing maintenance such as weeding, which can be a time-consuming and physically demanding task. This saves both time and effort for gardeners, allowing them to focus on other aspects of garden care.
Best Practices for Using Non-Woven Fabric Weed Mat
Preparation: Before laying the fabric, ensure the area is cleared of existing weeds and debris. Raking the soil and applying a layer of mulch can further enhance the effectiveness of the weed mat.
Installation: Cut the fabric to fit the desired area and lay it flat on the soil. Secure the edges with landscape pins or staples to prevent shifting.
Planting: Cut slits or X-shaped openings in the fabric where you intend to plant. Gently fold back the flaps and insert your plants. This method helps maintain the weed-suppressing benefits of the fabric while allowing for the growth of desired plants.
Maintenance: While the primary purpose of weed mat ground cover is weed suppression, occasional maintenance may be required to manage any weeds that do manage to germinate near the plants.
Eco-Friendly Gardening
One of the standout features of anti weed mat is its eco-friendly nature. Unlike plastic mulches that can contribute to landfill waste, non-woven fabric is biodegradable and can eventually break down in the soil. This aligns with the growing emphasis on sustainable and environmentally responsible gardening practices.
In Conclusion
The battle against weeds is a challenge that has plagued gardeners for generations. Thanks to the introduction of weed barrier mat, however, this battle has become significantly more manageable. By harnessing the benefits of weed suppression, moisture retention, and soil protection, gardeners can create healthier, more vibrant outdoor spaces with reduced maintenance demands. As this innovative solution gains popularity, it's clear that the non-woven fabric weed mat is indeed a hero in the world of gardening, rescuing landscapes from the clutches of unwanted weeds and providing a path towards more sustainable and beautiful outdoor environments.