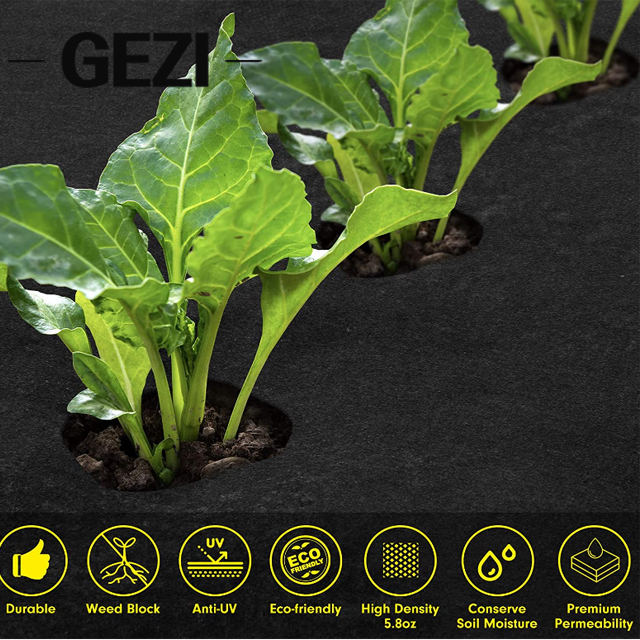 Understanding Ground Cover Weed Mat:
  A ground cover weed mat, also known as a landscape fabric or weed barrier, is a thin, permeable material made from woven or non-woven synthetic fibers like polypropylene. Its primary purpose is to suppress weed growth while allowing air, water, and nutrients to pass through to the soil beneath. It is a time-tested solution for weed control, favored by gardeners and landscapers alike.
  How Ground Cover Weed Mat Works:
  The ground cover weed mat works by forming a physical barrier between the soil and the environment above. When installed properly, it creates an inhospitable environment for weed seeds to germinate and grow. Here's how it works:
  1.Weed Suppression: The tightly woven or non-woven structure of the weed mat prevents sunlight from reaching the soil's surface. As a result, weed seeds that require sunlight for germination are unable to sprout, effectively suppressing weed growth.
  2.Air and Water Permeability: Despite acting as a barrier to weeds, the ground cover weed mat is porous enough to allow air, water, and nutrients to pass through to the soil. This ensures that your plants receive the essential elements required for healthy growth.
  3.Moisture Retention: The weed control mat aids in moisture retention by reducing water evaporation from the soil. This can be particularly beneficial in arid or hot climates, as it helps conserve water and keeps your plants adequately hydrated.
  Benefits of Ground Cover Weed Mat:
  1.Weed Control: The primary advantage of using a ground cover weed mat is, of course, weed control. By preventing weeds from sprouting and competing with your plants, the weed control mat fabric reduces the need for manual weeding and saves valuable time and effort.
  2.Improved Plant Health: With weeds kept at bay, your garden plants can thrive without the stress of competing for resources. They can establish stronger root systems and focus on healthy growth, leading to better overall plant health.
  3.Water Conservation: By minimizing water evaporation from the soil, the weed mat helps conserve water, leading to more efficient irrigation practices and reduced water consumption.
  4.Reduced Soil Erosion: The ground cover anti weed mat acts as a protective layer, reducing soil erosion caused by heavy rains or strong winds. This is especially beneficial on sloped areas or in regions with vulnerable soil.
  5.Aesthetically Pleasing: A weed-free garden presents a tidy and visually appealing landscape. The weed mat helps maintain a neat and well-organized garden, enhancing the overall beauty of your outdoor space.
  Installing and Maintaining Ground Cover Weed Mat:
  1.Site Preparation: Before installing the weed mat, clear the area of existing weeds and debris. Level the soil surface to ensure uniform coverage.
  2.Cut and Lay: Measure the garden area and cut the weed mat to the desired size. Lay the weed mat over the prepared soil, ensuring it covers the entire area.
  3.Securing the Mat: Use landscape pins or staples to secure the woven weed mat to the ground. This prevents it from shifting or getting displaced during heavy winds or rainfall.
  4.Planting: Cut X-shaped slits in the weed mat at the desired planting locations. Carefully plant your flowers, vegetables, or other garden plants through these openings.
  5.Mulching: For added protection and aesthetic appeal, apply a layer of organic mulch over the weed mat. Mulch also helps retain moisture and further suppress weed growth.
  6.Regular Inspection: Periodically inspect the weed mat for signs of wear or tear. Replace damaged sections promptly to maintain its effectiveness.
  Conclusion:
  A ground cover weed barrier mat is a valuable tool for gardeners seeking an efficient and eco-friendly way to keep their garden weed-free. Its ability to suppress weeds while allowing for essential air, water, and nutrient exchange makes it an essential addition to any garden or landscape. By installing a ground cover weed mat, you can spend less time battling weeds and more time enjoying the beauty and bounty of your flourishing garden.