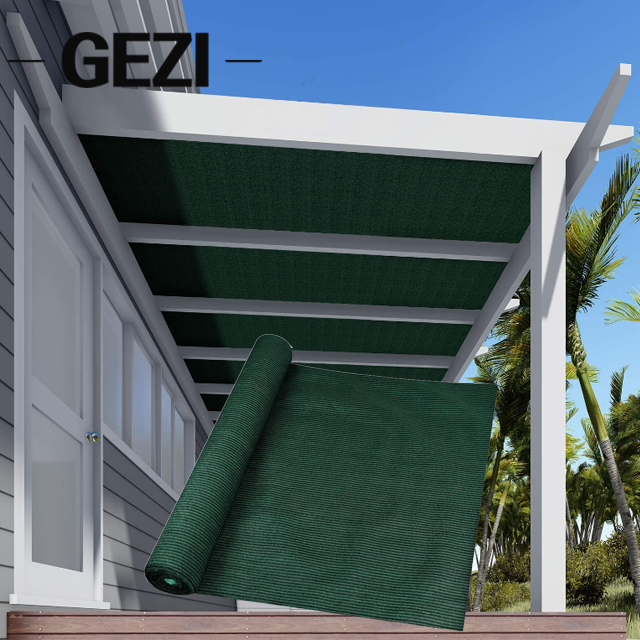 Greenhouses have long been a valuable tool for farmers and horticulturists, allowing them to cultivate crops in controlled environments and extend growing seasons. However, as the need for sustainable and efficient agricultural practices grows, so does the demand for innovative solutions that maximize greenhouse efficiency while minimizing environmental impact. One such solution gaining popularity is the use of agricultural shade nets.
  Agricultural sun shade nets are woven fabrics designed to regulate light intensity, temperature, and humidity within a greenhouse. By strategically placing these nets over crops, farmers can create optimal growing conditions, leading to increased productivity, reduced energy consumption, and better resource management.
  One of the primary benefits of using sun shade netting is their ability to regulate light levels. Different crops have varying light requirements, and excessive or insufficient light can negatively impact their growth. Shade sails & nets help address this issue by diffusing sunlight and reducing the intensity that reaches the plants. This is particularly beneficial in regions with intense sunlight or during periods of high solar radiation. By controlling light levels, shade nets prevent sunburn, minimize photosynthetic stress, and promote even growth throughout the greenhouse.
  Furthermore, shade net sun play a crucial role in managing temperature and humidity. Excessive heat can be detrimental to plant health, leading to wilting, reduced yields, and increased susceptibility to pests and diseases. Agricultural net shade create a shaded microclimate within the greenhouse, reducing temperature peaks and maintaining a more stable environment. This mitigates heat stress and helps plants thrive.
  Additionally, shade net sunshade can control the influx of pests and insects, acting as a physical barrier between the plants and external threats. They create a protective shield, reducing the need for chemical pesticides and fostering a healthier, more eco-friendly growing environment. By reducing pesticide usage, shade nets contribute to a decrease in environmental pollution and promote the conservation of beneficial insects, leading to a more balanced ecosystem.
  Another advantage of using agricultural sun-shade net is their potential for water conservation. By reducing evaporation rates and preventing direct exposure to sunlight, these nets help retain moisture within the greenhouse. This means less water is required for irrigation, reducing overall water consumption and making cultivation more sustainable. The conservation of water resources is becoming increasingly important, particularly in regions facing water scarcity or drought conditions.
  The versatility of agricultural sun shade sail nets also allows farmers to optimize their greenhouse operations throughout the year. These nets can be adjusted or removed entirely, depending on the specific needs of the crops or changing weather conditions. For instance, during colder seasons or when more sunlight is required, the nets can be easily retracted to allow maximum light penetration. This adaptability ensures that farmers have precise control over the growing environment, optimizing crop quality and productivity.
  Implementing agricultural shading mesh nets in greenhouses offers numerous benefits for both farmers and the environment. It enhances crop yield and quality while minimizing the use of resources such as water and pesticides. Moreover, the energy savings resulting from reduced cooling and ventilation needs contribute to overall sustainability and cost-effectiveness.
  When selecting agricultural shade cover nets, it is essential to consider the specific needs of the crops being grown, the local climate, and the desired light and temperature levels. Different shade percentages are available, ranging from 30% to 90%, allowing farmers to customize the light intensity according to their requirements. Additionally, it is crucial to choose high-quality, durable nets that can withstand environmental conditions and provide long-term benefits.
  In conclusion, agricultural shade fabric are a valuable tool for improving greenhouse efficiency in controlled environments. By regulating light intensity, temperature, and humidity, these nets create optimal growing conditions, leading to increased crop productivity, reduced resource consumption, and enhanced sustainability. Embracing innovative solutions like agricultural shade nets enables farmers to meet the demands of a changing agricultural landscape while minimizing their environmental footprint.