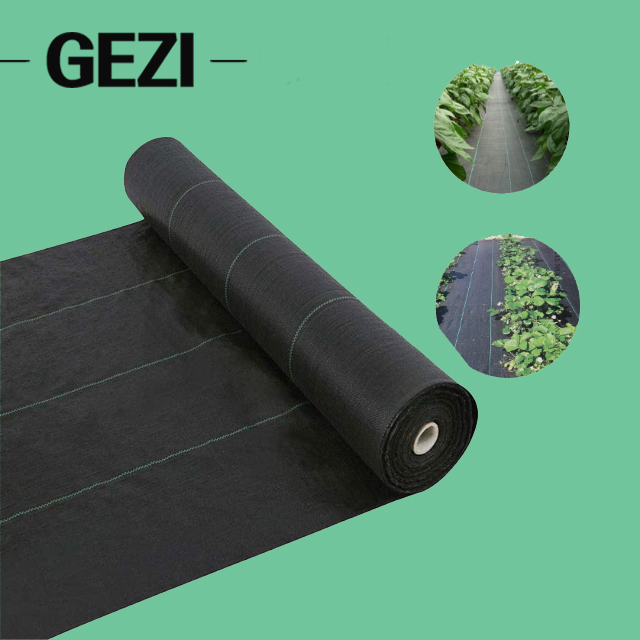 Understanding Non-Woven Weed Mats:
  Non-woven weed mats, also known as weed barriers or landscape fabric, are engineered geotextile materials made from polypropylene or polyester fibers. The manufacturing process involves mechanically entangling these fibers to create a porous yet sturdy sheet. The porosity of the material allows water, air, and nutrients to penetrate the soil while blocking sunlight, preventing weed growth. This innovative solution has gained popularity in recent years for its effectiveness and eco-friendly properties.
  Easy Installation:
  One of the key benefits of non-woven weed control mat is their ease of installation. The lightweight and flexible nature of the material make it easy to lay down on the desired area. Gardeners and farmers can simply roll out the weed mat and secure it in place with staples, pegs, or other anchoring methods. This quick and straightforward installation process saves time and effort, especially for larger areas that require weed control.
  Effective Weed Suppression:
  Non-woven weed control fabric mats offer excellent weed suppression capabilities. By blocking sunlight, they prevent weed seeds from germinating and emerging through the fabric. This eliminates the need for frequent weeding and reduces the competition between weeds and cultivated plants for essential resources, ensuring healthier and more vigorous growth of desired vegetation.
  Water and Nutrient Permeability:
  While non-woven weed mat ground cover are effective at inhibiting weed growth, they still allow water, air, and nutrients to pass through to the soil. This permeability is crucial for maintaining soil health and promoting proper root development of plants. Unlike impermeable plastic films, non-woven weed mats facilitate a balanced and conducive environment for crops without causing waterlogging or nutrient deficiencies.
  Durable and Long-Lasting:
  High-quality non-woven anti weed mats are durable and designed to withstand outdoor conditions. They are resistant to UV degradation, ensuring their longevity even under prolonged exposure to sunlight. Once installed, these mats can provide several years of effective weed control without the need for frequent replacements, making them a cost-effective solution in the long run.
  Environmentally Friendly:
  Non-woven weed mats contribute to sustainable and environmentally friendly weed control practices. By reducing the reliance on herbicides and minimizing the need for frequent tilling and cultivation, they help conserve soil structure and biodiversity. Additionally, their recyclable nature ensures a minimal ecological impact at the end of their useful life.
  Versatility:
  Non-woven weed barrier mats are versatile and can be used in various settings, including gardens, landscaping projects, nurseries, and agricultural fields. They are suitable for both permanent installations and temporary applications, allowing for easy relocation and repositioning.
  Conclusion:
  In conclusion, non-woven weed barrier mats have revolutionized weed control by offering an effective, efficient, and eco-friendly solution to combat unwanted vegetation. Their ease of installation, ability to suppress weeds while promoting proper soil health, durability, and environmental benefits make them the go-to choice for gardeners, landscapers, and farmers alike. By opting for non-woven weed mats, individuals can enjoy well-maintained landscapes, improved crop yields, and a greener approach to weed control. Embracing this innovative weed control method is a step towards more sustainable and harmonious interactions with our natural surroundings.