Norway
Norway is located in the western part of Scandinavia in northern Europe, with a long and winding coastline. It is known as the land of ten thousand islands. The average annual consumption of norwegians is up to 45kg.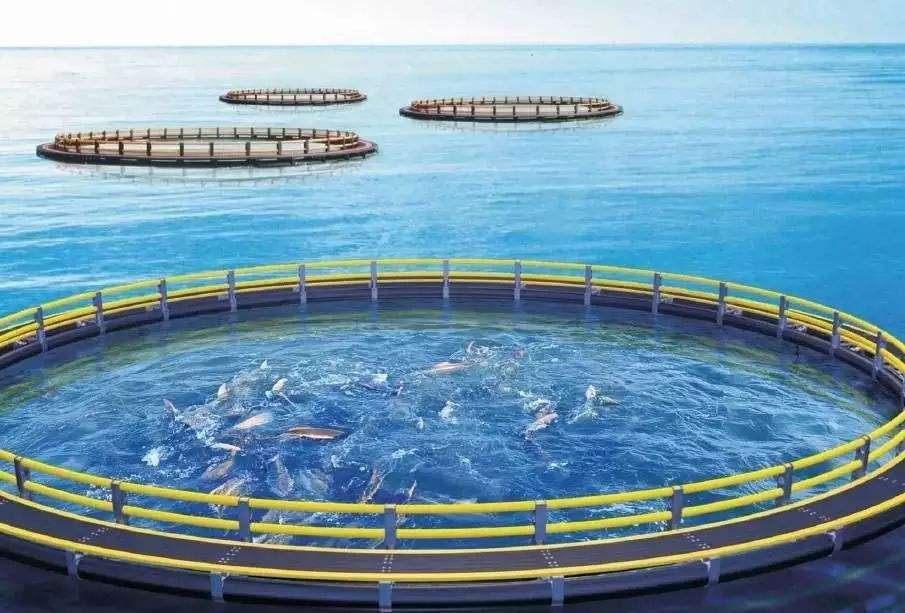 (1) large-scale deep-sea cage.
Norway's deep sea cage research and development in the world cage industry in a leading position.
At present, Norway mainly USES the round HDPE deep sea cage with a circumference of 60~120m. It has a wind resistance of grade 12, a wave resistance of 5m, and a flow resistance of less than 1m/s. The maximum yield of single box breeding can reach more than 200t, and the average life is more than 10 years.
Large Norwegian breeding work of ship research and development is of great significance to conduct offshore deep water aquaculture, NSK ship design company in Norway in 2015 large deep-sea breeding work of the construction of the ship, 430 m long, 54 m wide, a salmon fish breeding work ship can hold 10000 t or more than 2 million young fish, can also be as low as 10 m below sea level, breeding work ship designed as a steel frame structure, each ship installed six 50 m x 50 m forward, forward depth can reach 60 m.
It is not difficult to see that the Norwegian deep sea cage towards the direction of large and super-large development, breeding environment and products more close to the natural, for environmental protection and product quality assurance.
(2) supporting equipment is increasingly improved.
Norway's deep-sea cage farming facilities are very perfect, this is mainly due to the attention and support of the government.
Norwegian fish breeding value $5.4 billion in 2015, Norway about $400 million a year as a fund Marine research funding, makes to improve supporting facilities, large Norwegian deep-sea area generally equipped with automatic system, fish bait automatic counting device, underwater monitoring system, automatic classification and fish and automatic equipment, such as collecting dead fish for the integration of intelligent management system, the Norwegian deep-sea caged breeding facilities in common use of liberating human gradually from farming activities, engaged in the breeding management and research and development work, gradually realize production automation, intelligent.
(3) pay more attention to environmental protection and food safety.
In the development of deep-sea cage farming in Norway, the talent cultivation mechanism and strict management system gradually established have greatly improved the quality of deep-sea cage farming in Norway and promoted the development of mariculture industry.
From the early establishment of the breeding license system to the current perfect legal system, the deep-sea cage aquaculture industry worldwide provides an advanced and strict standard reference.
For example, the practitioners of aquaculture should have more than 3 years of training and more than 2 years of practical experience in aquaculture, which requires the farmers to have good professional knowledge and accomplishment.
It stipulates the daily management methods, such as breeding density, annual bait amount of each farm, spacing between farms, and treatment methods of sick and dead fish, and puts forward specific quantitative criteria for the code of conduct of deep-sea cage farming activities, so as to make the breeding work have laws to follow.
In addition, the permit application must meet the environmental protection, no pollution and disease transmission standards, which reflects the Norwegian deep sea cage farming industry attaches great importance to the healthy and sustainable development.
(4) progress in bait and epidemic prevention.
The development of deep-sea cage culture in Norway in bait and disease prevention is of great significance to China.
After more than 20 years of development, the bait raised in deep sea cages in Norway has undergone a transformation from high protein, high carbohydrate and low fat to the current high fat, low protein and low carbohydrate, which is more absorbed by fish, thus reducing the pollution of excretion to the sea.
Vaccines have been developed for common diseases in aquaculture (vibrio anguillosis, vibrio cold-water disease, furunculosis, and infectious pancreatic necrosis of salmon) at a very low price, and automatic vaccine injection equipment has been developed to reduce the use of antibiotics, which can prevent and cure diseases and guarantee product quality.
Japan
Japan is an island country with rich fishing resources. Influenced by its geographical location and natural environment, 43 species of aquaculture have been developed. The main species of aquaculture in seawater cages are % fish and red snapper.
According to different sea conditions, the use of different specifications, shape, material cage is a big advantage of Japanese cage farming.
In the choice of cage mainly has placed in the relatively gentle waves in the inner bay of steel frame floating cage and floating cage in the open sea, including HDPE cage, rubber tube cage, FRP cage.
In recent years, Japan has developed floating giant fish cage, 112m long, 32m wide, and the depth can be adjusted manually within 30~100m.
This cage is convenient for fishing boats to tow to the deep water area for aquaculture, and can make full use of the natural plankton resources and superior water quality conditions in the deep water area, but the utilization rate is not high.
Japan also strictly controls the production of aquaculture in order to ensure the production efficiency of farmers and avoid water pollution caused by blind expansion.
Although Japan's deep-sea cage aquaculture started early, but in its development process, a series of problems have not been solved, resulting in Japan's deep-sea cage aquaculture industry far behind Norway.
The main performance is:
First, Japan has not formed a large-scale deep-sea cage farming, more than 80% by the family management, is not conducive to the large anti-wave type deep-sea cage research and development and use, and then unable to obtain large-scale production benefits.
The second is that government support is inadequate, investment is low and farming must be done where it is approved, in contrast to Norway's requirement that farmed waters be used in rotation.
Third, the proportion of bait is not scientific. Although the use of dry pellet bait gradually increased in the process of deep-sea cage farming in Japan, the use of wet bait which is easy to spread diseases still accounts for the main proportion.
Fourth, there is a gap in the work of fish seedling cultivation. No excellent strains have been cultivated, and they mainly rely on wild fish seedlings and imported fish seedling technology. In addition, the overall level of mariculture practitioners is not high, which also restricts the development of deep sea cage farming in Japan.
Greece.
The Marine cage aquaculture industry in Greece occupies an important position in Europe and the world.
The yield of deep-water cage aquaculture reached 82,850t, and the per capita aquaculture yield was 90t.
After more than 30 years of development, the Greek seawater nursery technology have made very great progress, in universities and research institutes under the joint efforts of experts, Greece's fish fry larval survival rate of 3% from early stage to mature stage, the survival rate of 8% ~ 30%, the mortality and malformation rate is as high as 50% ~ 60% lower to the deformity rate is 3% ~ 5%, shorten the breeding cycle from 20 ~ 30 months to 12 ~ 18 months, seawater aquaculture, Greece attaches great importance to the development of new varieties.
In addition, Greece's deep-sea cage farm has advanced water quality testing and treatment facilities, mobile bait, mechanical Control net, suction fish classification, computer monitoring and other mechanical equipment, and introduces the ISO (International Organization for Standardization) and HACCP (Hazard Analysis Critical Control Point) to ensure the safety and quality of products.
Chile.
Chile is one of the fast developing countries in aquaculture, which is mainly promoted by the government, enterprises and scientific research institutions.
In the early stage of development, the government provides conditions for the development of aquaculture industry from financial support, policy support and environmental cultivation. In the middle and late stage of development, enterprises gradually become the main body. With the expansion of enterprise scale and the enhancement of strength, enterprises continuously make breakthroughs in technology and rely on scientific and technological progress to promote industrial development.
In recent years, in order to diversify fishery products and improve the competitiveness of Chilean aquaculture industry, Chile production promotion bureau and scientific and technological development foundation began to research and cultivate fish species with high economic value, mainly houndfish, Antarctic cod, % fish, golden deep sea eel and yellow croaker.
I hope you found this useful.
We are China aquaculture network manufacturers, custom aquaculture net, please contact us.