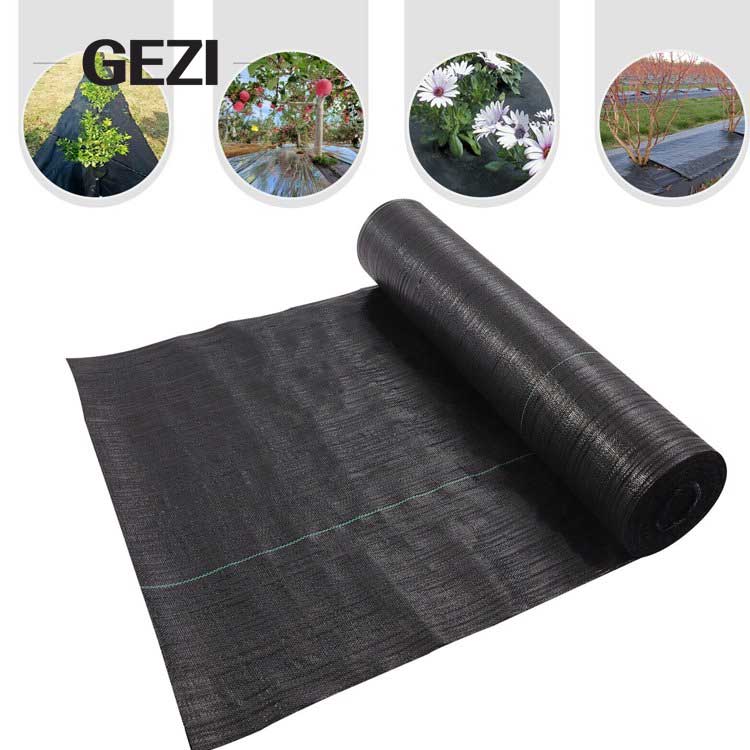 What is Woven Weed Mat Ground Cover?
  Woven weed control mat is a specialized fabric designed to suppress weed growth while allowing air, water, and nutrients to pass through to the soil beneath. It is typically made from polypropylene or other durable materials, woven tightly to create a strong barrier against weeds. Available in various sizes and thicknesses, these mats can be easily cut to fit any garden space and effectively prevent weed growth in both commercial farms and residential gardens.
  Advantages of Woven Weed Mat Ground Cover
  1.Weed Suppression: The primary purpose of using woven weed mat ground cover is to suppress weed growth. By blocking sunlight from reaching the soil, the mat prevents weed seeds from germinating, dramatically reducing the number of weeds that sprout in your garden. This means less time spent weeding and more time enjoying a pristine garden.
  2.Water Conservation: Woven weed control fabric mats are designed to allow water to penetrate the soil while minimizing evaporation. By retaining moisture in the soil, they promote water conservation, ensuring that your plants receive sufficient hydration even during dry spells. This not only benefits your garden but also helps conserve water resources.
  3.Soil Erosion Control: Erosion can be a significant concern, especially on slopes or in areas with heavy rainfall. Woven weed control mat fabrichelp stabilize the soil, preventing erosion and protecting the roots of your plants from being exposed.
  4.Enhanced Plant Growth: While woven weed mat ground cover keep weeds at bay, they don't hinder the growth of desired plants. In fact, these covers promote better plant growth by providing a consistent environment with proper water and nutrient access. Plants can thrive without having to compete with invasive weeds for essential resources.
  5.Low Maintenance: Traditional weeding can be backbreaking work, requiring consistent effort to keep the garden clean and free from invasive plants. By implementing woven anti weed mat, you significantly reduce the need for ongoing maintenance. This allows gardeners to spend their time more productively on other aspects of gardening.
  6.Environmental Benefits: Woven weed matground cover offers a more eco-friendly alternative to chemical weed killers, which can be harmful to both the environment and human health. By using this natural weed control method, you contribute to a safer and healthier ecosystem.
  Installation and Maintenance
  Installing woven weed mat fabric is relatively straightforward. First, clear the area of existing weeds, rocks, and debris. Then, cut the mat to the desired size and shape to cover the garden bed or specific plant rows. Secure the mat in place using garden staples or pegs, ensuring it is taut and free from wrinkles.
  Periodic checks are essential to ensure the mat remains in place and is doing its job effectively. Over time, organic debris may accumulate on the surface, but this can be easily cleared by sweeping or blowing it away. If necessary, you can make small cuts in the mat to accommodate new plants as your garden grows.
  Conclusion
  Achieving a weed-free garden can be a challenging task, but woven weed mat ground cover offers a practical and effective solution. By suppressing weed growth, promoting better plant growth, conserving water, and reducing maintenance efforts, these covers prove to be a valuable addition to any garden. Embrace the benefits of woven weed mat ground cover and enjoy a beautiful, healthy, and hassle-free garden for years to come.